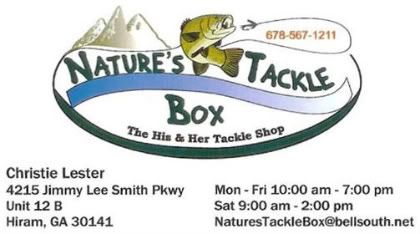 Natures Tackle Box is one of the newest up and coming shops in the North Atlanta area. Their shop is located in Hiram, GA at the intersection of Hwy 92 and Jimmy Lee Smith Parkway. They are in the strip mall where the old Kmart used to be. For more specific directions visit this link below

Natures Tackle Box Directions

The owner, Christie Lester is always updating and expanding her selection almost weekly it seems by constantly adding some of the newest trends in tackle that hits the market. Natures Tackle box currently has several Allatoonabass.com sponsored products such as Quickdrop Dropshot sinkers (so far the only shop in Atlanta that has these), Lucky Craft, Triple Fish and they are Atlanta's NEWEST Dobyns Rods dealer. Natures Tackle Box is also the HOME of the Bull Shad Swimbait and Georgia Tackle's Float N Flies and have exclusives on these products for West Atlanta. They also have an exclusive on Triple Trout swimbaits and they are the one of 2 dealers that carry them East of the Mississippi River. They also have countless other brands (but not limited to) Zoom, River2Sea, Jackall, Yamamoto, Pradco, Netbait, Grande Bass and also a good selection of swimbaits. The cool thing about Natures Tackle Box is the owner. Christie is someone you could talk to for hours about fishing and is very down to earth and is always taking notes of what else she can add to make her shop more appealing and will order things for you if she doesn't have them in stock. Even though she is a very avid fly fisherlady she made it a point to expand her bass fishing selection so that she can cater to both markets. Natures Tackle Box also holds a few seminar events every year that consistantly draw over 120+ people and they are very active in the community to by sponsoring several COE/DNR and AllatoonaBass.com events whether it be raising money for a disabled veterans fishing dock or lending a hand in handling donations to the COE/DNR Tree cuttign program. It's been great to watch her shop grow over the past 2 years. Here are a few pictures of the inside of her shop for you to ponder over. The decor is very appealing and outdoorsie (is that a word? LOL).

A few sample shots of the Bass Tackle and Gear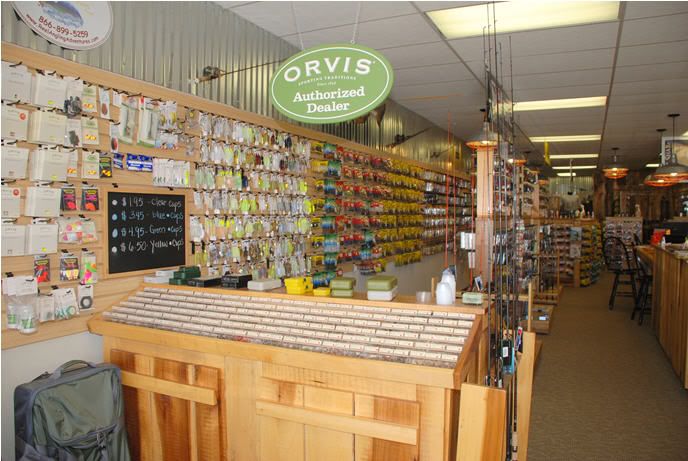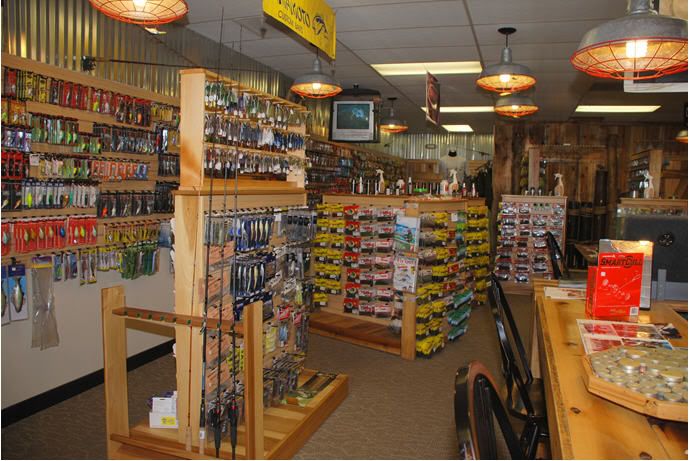 Good selction of FLY Fishing and Float and Fly tackle and supplies for those of you into the sport of fly fishing and making your own flies.